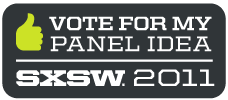 It's that time of year again and the SXSW Panel Picker is live once more with a huge selection of panel suggestions for the general public to weigh in on. SXSW Panel Picker is the process whereby they pick the best submitted panel ideas for the Conference in March, 2011 based on input from the general public (that's you), their staff and an advisory board. The selection process seems pretty clear but who knows – if you are not in you can't win ;-/. So, we are putting our best efforts together to help promote our panel, titled:
Post Recovery Recruitment – What Now?
The panel will be full of people from the industry who understand the challenges that job seekers face and represent their views as to how things are changing. Yours truly, Jarlath O'Carroll, the CEO of Jobspeaker plus Dan Schawbel, the Gen-Y personal branding expert along with several others representing recruiters, employers and job seekers will be present to share ideas, stories and challenges with all attendees. It should be fun, engaging and an informative session for all working adults i.e. not just those looking for a job but also those in jobs who need to understand how they should be prepared for managing their own career.
So please Vote "Thumbs Up" for this Panel now and let's get a lively debate going on how we should approach this new job market.